How to make a car emergency kit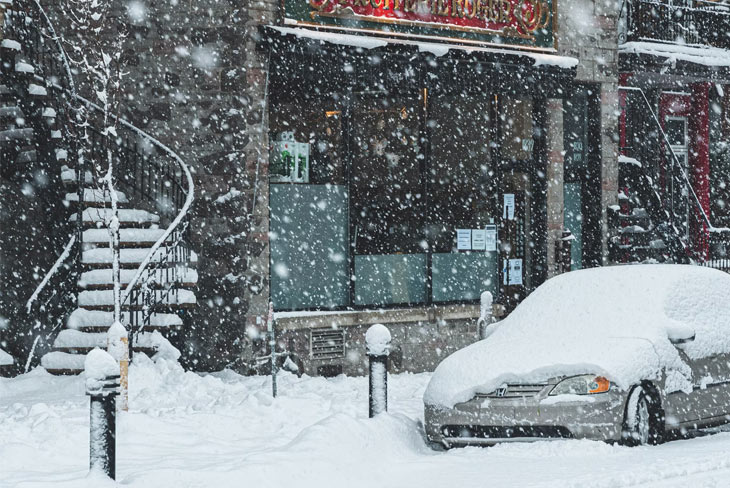 When things happen – and they sometimes do – it's better to be prepared. All drivers should have a preprepared emergency car kit stowed somewhere in their vehicle. This kit can come in clutch if you have had to pull off the side of the road unexpectedly due to mechanical error and are far from home or if your car won't turn on in the wintertime and you are in unfamiliar territory.
Car insurance can come in clutch to help spring back financially from insurable losses, but you'll still want a way to ensure you can stay safe if something unexpected happens. Take care of yourself first – you can always submit a claim once you're in a safe position to do so.
Panda7 has your back. Here is our guide to creating your own emergency car kit.
Scenarios where an emergency car kit could come in handy
While it largely depends on the season in which you are driving, the scenarios you could encounter are endless. Those may include:
Experiencing a flat tire while driving,
Getting stuck in the ice and snow in the wintertime, whether that is while parked or on the road,
A hit-and-run that leaves you stranded,
A medical emergency where it is no longer safe to drive,
Fleeing a disaster in your local area where you need to pack your car for a safer destination,
Mechanical breakdown,
Collision with wildlife,
And more.
A car emergency kit can come in handy in all these scenarios, whether that's simply to tide you over as you wait for emergency roadside assistance or supplies that may help you get back on the road again.
Here's what to include in your car emergency kit:
In some situations, your car may very well be a sanctuary as you hold out against a disaster on the side of the road. This is especially true if you are far from an area of higher population, are unable to move your vehicle, or are stuck in the ice and snow. You may very well be waiting hours before help arrives. A car emergency kit can be critical in these instances.
A basic car emergency kit should include the following:
First-aid kit
A first-aid kit should be the first thing on your list. You should have a first-aid kit at home, in your car, and in your workspace – whether that's an office or at-home. Your first-aid should include gloves, gauze, medical tape, alcoholic wipes, scissors, tweezers, barrier devices, instant ice packs, and adhesive bandages of assorted sizes.
Road flares
If you experience an unexpected disaster during the early hours or at night, visibility may be an issue. For this, you should look into acquiring road flares or some other means of making yourself more easily apparent on the road or on the side of it. If you have gotten into an accident where your car has rolled off the road or is stuck in a ditch, these can be especially handy.
Jumper cables
Jumper cables may come in handy if you or someone else cannot start their vehicle – especially during the colder months. This may very well be the difference between being stuck for hours and being able to get yourself to a safer space where you can assess the state of your vehicle easier.
Food and water
If you are stuck waiting for emergency assistance, in lower populations that could take hours! Make sure that your car emergency kit contains non-perishable snacks and drinking water to tide yourself over and keep yourself calm while you await help.
Blanket and clothing
If your car is experiencing mechanical issues or has broken down on the side of the road in the wintertime, you may want to pack additional clothing and blankets in your kit to keep yourself warm while you wait for assistance.
Scraper or snowbrush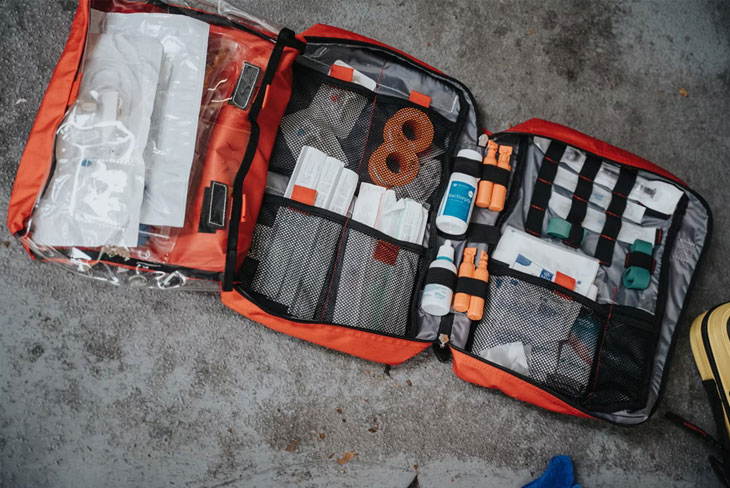 This can come in clutch if you are lodged on the side of the road or are experiencing poor visibility due to snowstorms and flurries.
Flashlight and batteries
If it is dark, whether early morning or night, you may need a flashlight to assess any mechanical errors in your vehicle or simply just to get around better without slipping on treacherous ice or tripping up.
Tool kit
A tool kit can be a great thing to keep with you in your emergency car kit in the event of disaster, as you may very well be equipped to fix small mechanical errors that can help you out to get to a safer destination. You may want to include a tire gauge, sand or salt, and antifreeze washer fluid in this tool kit, as well as the basic car tools.
Once you have gotten to a safer destination
Once you have gotten out of your predicament and are in a much safer destination, it may be time to call up your insurance company and inform them of the incident! If you need to make a claim, this is the time to discuss the damages or injuries that occurred and break down the details of the incident. The more information, the better, and the quicker you can get your settlement.